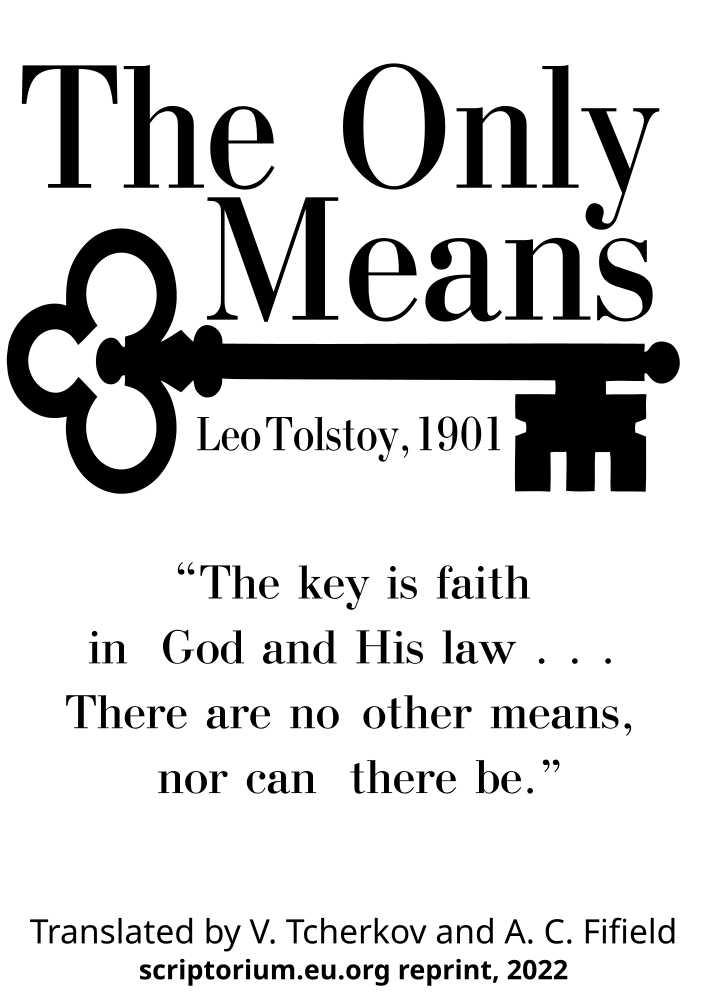 Why is there so much misery and strife in this world? What class is to blame? What would happen if men acted according to reason, love and their own best interest? What if they followed God's most important commands (according to Jesus in Mark 12:29-34) with the same fervor as they pray, fast and sing in church? These are the questions christian moralist Leo Tolstoy tackles in this short essay.
The solution is not to be found in more violence, hatred and murder as the sovietic socialist "paradise" showed us a few years after the writing of this text, nor in complicated laws of science and state but rather in keeping and spreading a single simple rule: the golden rule. Only hypocrisy and fear keep us from being faithful to God and benefiting greatly in this life and the next. Read this text and start changing the world starting with your own life.
If you notice issues in this book, please contact us so we can fix them, you'll get to be on the thank-you list if you so choose. If the links to the scan are missing or dead, please contact us as well, we have a backup of everything.
Contributor(s)
Tifap

Monero: donate to scriptorium :)
Bitcoin: donate to scriptorium :)
Ether: donate to scriptorium :)
Donate to help our effort!
Please donate to Scriptorium if you want more of those texts released. Editing each page takes 15min and researching and cataloging worthy texts is also time-consuming. We accept other payment methods as well as donations of materials (paper, ink, machines...) and time. Please reach to us!
Monero
8BextuEzREqHiE2F9dJCwceFALmazUm5i6PYyMryUJmtZS5LRyGBX7f9XMSiW27bvM7WvtoBayibHg79tRm4gEoCLeGi4P7