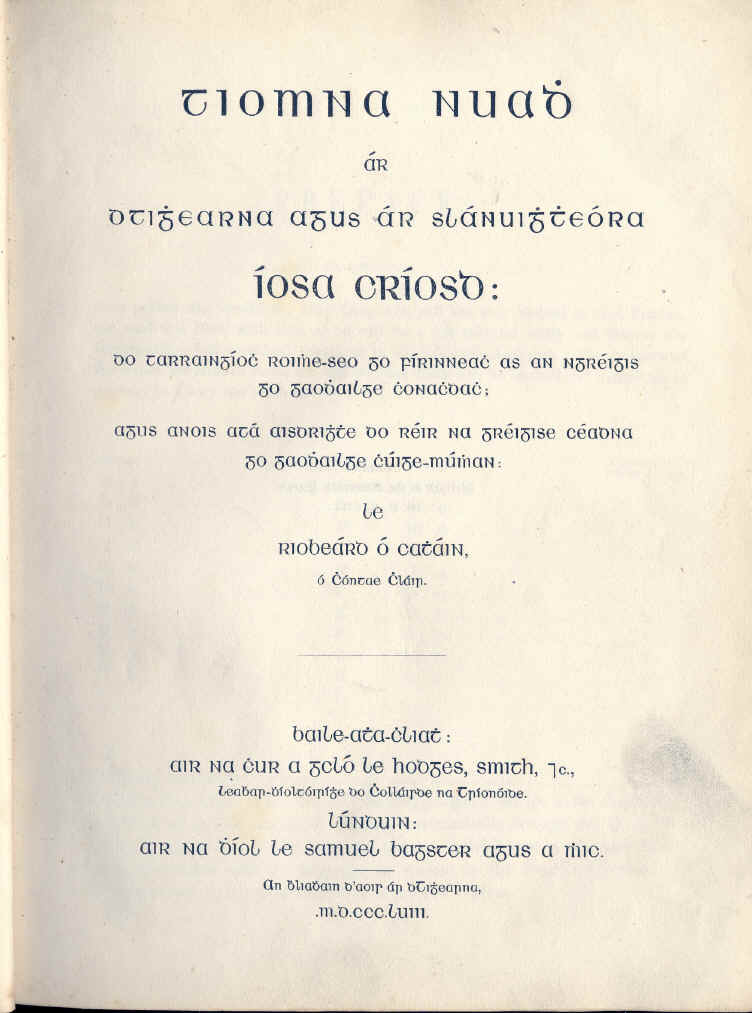 Riobeard (Richard) O'Cathain's (O'Keane's) 1858 Translation of the New Testament Into Irish
THE SCRIPTURES, as such, require no Preface or Introduction. In this respect THE BOOK differs from all other books: it speaks for itself, its authority arising from the fact that it is "The Word of God," and there­fore needing no commendation or explanation from the pen of man. But, with respect to particular versions or translations of any portion of the Scriptures, there are frequently reasons why some preface or explanation is desirable, and on consideration I have felt that this applies in publishing a new or altered version of the New Testament in the Irish Language.
It is known generally that there is already a Translation of the Holy Scriptures in the Irish Language, which is admitted by competent judges to be a reasonably faithful and good one. This has been in use for many years, and few doubt its adequacy to meet the wants of the Irish-speaking population. Anyone, therefore, who proposes to publish an altered or new version of the New Testament in the same language, is bound to give a reason for his work, and to show that there was a necessity for such an undertaking; and simply to satisfy this just claim is the object of the following statement.
The existing Translation of the Irish Testament has not only a number of original words, but endless inflections of words, not understood by the 'pea­santry in the South and part of the West of Ireland,-such words being in the dialect spoken in the Province of Connaught two hundred years ago,-and the altering continually of such words, whenever I read the Irish Scriptures, and substituting others of the Munster dialect, gradually led me to the thought, which I had not at first conceived, of going systematically through the whole of the New Testament, with the help of a competent Irish writer, who was tho­roughly acquainted with the language as spoken in the South of Ireland; and this resulted in the production of the present version.
It is therefore hardly necessary to state that this work does not pretend to be a Translation. I took up the existing Version as I found it, and, making it the basis of mine, I let it alone wherever I thought it reasonably intelligible, only altering words or sentences where I considered they would not be un­derstood in the South of Ireland.
I have, in the progress of this work, invariably used, and altered words from, the Greek text, and not the English or any intermediate translation, and in doing so, I have, to the best of my ability, aimed at rendering honestly and faithfully the meaning of the Original.
Time and experience alone will tell the use and value of this work, and whether or not there was a necessity for it; when, after a few short years, he who labours in the service of the Lord, and they who criticise his work, will both alike have passed into the presence of Him who shall judge all according to what is written in His Word, and neither he nor they will be found within reach of the praise or dispraise of man.
That there are some, nay many in this country, who have more ability and more leisure for such a work than I have had, I make no doubt; and I would have been glad to have heard of its having been undertaken by any such. If my effort shall have the effect of leading some better qualified person, at some future period, to do well what he may think I have done defectively, it will afford me sincere pleasure.
I now send forth this Version to the public, with my humble but earnest prayer to the God of all grace, who has enabled me to bring the work to a conclusion, that He would make it a blessing to those for whom it is intended; and dispose many of those who profess to believe that the Scriptures are a Revelation from God to man, to study and use them as such, that they may, through the Scriptures, be made wise unto salvation, through faith which is in Christ Jesus. Amen.
R.K.
RAHONA LODGE, CARRIGAHOLT,
October_ 10, 1858
https://www.biblebc.com/Irish/IrishBible/ocathains_nt.htm
If you notice issues in this book, please contact us so we can fix them, you'll get to be on the thank-you list if you so choose. If the links to the scan are missing or dead, please contact us as well, we have a backup of everything.
Contributor(s)
Tifap

Monero: donate to scriptorium :)
Bitcoin: donate to scriptorium :)
Ether: donate to scriptorium :)
Donate to help our effort!
Please donate to Scriptorium if you want more of those texts released. Editing each page takes 15min and researching and cataloging worthy texts is also time-consuming. We accept other payment methods as well as donations of materials (paper, ink, machines...) and time. Please reach to us!
Monero
8BextuEzREqHiE2F9dJCwceFALmazUm5i6PYyMryUJmtZS5LRyGBX7f9XMSiW27bvM7WvtoBayibHg79tRm4gEoCLeGi4P7