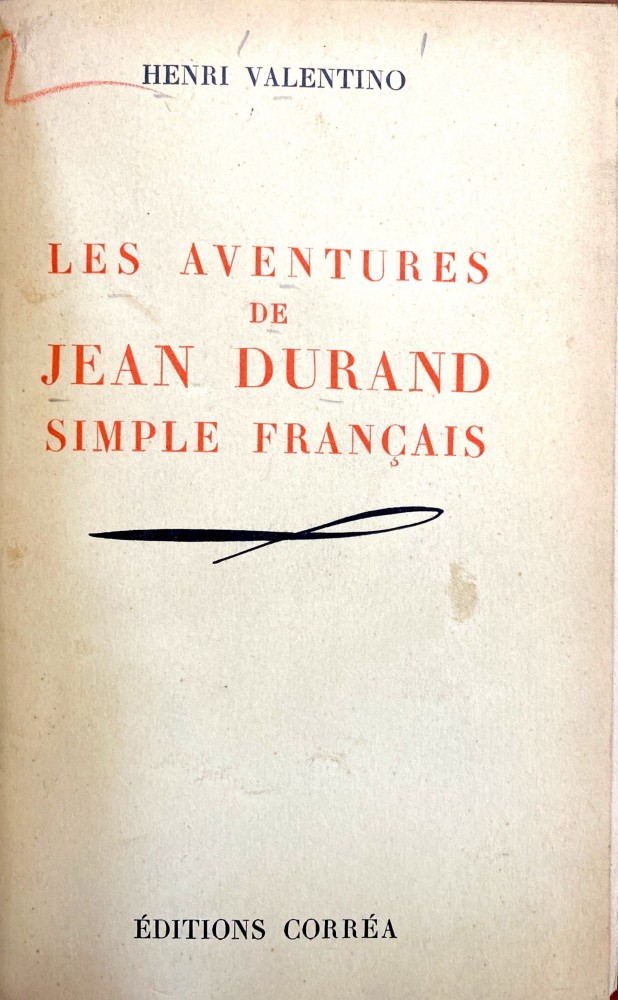 Les Aventures De Jean Durand, simple Français
The original margins of the pages may have been cropped in this scan. We are working with the volunteer to find a way to release the original scan (it is too heavy for him to share it as of now).
Roman sarcastique au sujet des années folles et de l'arrivée de l'hégémonie américaine en Europe. Écrit par un auteur reactionnaire désenchanté ayant une plume très agréable à lire tant elle exprime ce panache à la française, élégant sans être pompeux, qui ne se fait plus de nos jours.
"Lorsque fut signé à Versailles le traité fameux qui devait assurer pour des siècles la paix du monde, une Commission internationale à l'enseigne du Règlement de la paix ouvrit ses portes aux Champs-Elysées … Mais n'entrait pas qui voulait dans la Tour de Babel des vainqueurs: on s'arrachait les places et le choix du jury se portait de préférence sur des citoyens au-dacieux, nantis de hautes recommendations politiques, parmi lesquelles figuraient beaucoup d'enfants d'Israël et d'Hiram."
If you notice issues in this book, please contact us so we can fix them, you'll get to be on the thank-you list if you so choose. If the links to the scan are missing or dead, please contact us as well, we have a backup of everything.
Contributor(s)
Donate to help our effort!
Please donate to Scriptorium if you want more of those texts released. Editing each page takes 15min and researching and cataloging worthy texts is also time-consuming. We accept other payment methods as well as donations of materials (paper, ink, machines...) and time. Please reach to us!
Monero
8BextuEzREqHiE2F9dJCwceFALmazUm5i6PYyMryUJmtZS5LRyGBX7f9XMSiW27bvM7WvtoBayibHg79tRm4gEoCLeGi4P7