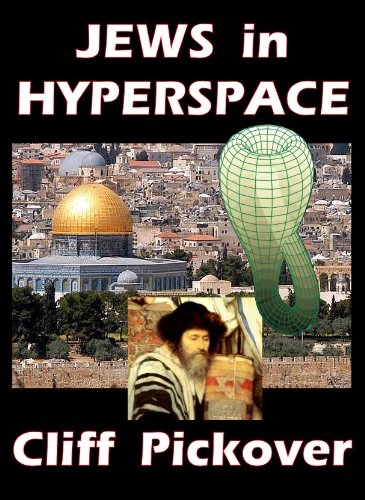 "Cliff Pickover mixes higher dimensions and religion, miracles and modern technology, and politics and physics to produce a gripping tale set in a future Jerusalem. A strange blend of scientific thriller and a quest for religious harmony."
Orthodox Jews are disappearing from Jerusalem. One moment they are praying at the Western Wall, and in the blink of an eye, they seem to evaporate, occasionally leaving behind only their fur hats–their shtreimels–that sit like small, soft flying saucers, perched on stone pavement in the dwindling light. In order to build the Third Temple while being respectful of the Islamic structures on the Temple Mount, the Jews have discovered a way to access a fourth spatial dimension. They will build the Third Temple invisibly "above" the Temple Mount and "above" the Mosque in the direction of the fourth dimension.
Keywords: Future of Israel and Jerusalem, Parallel Universes, the Third Temple in Jerusalem, Nephilim, Angels, Science Fiction, Fourth Dimension
Dr. Clifford A. Pickover is the author of over 40 books on science, mathematics, art, and religion. He received his Ph.D. from Yale University and holds over 50 U.S. patents.
Available on kindle
I want this book!
We are working on finding a way to source this book and a volunteer who will scan it. If you want to get notified, just insert your email address here and you'll receive notifications about this request (expired copyright, funding received, incoming release from a volunteer, etc.)
Donate to help our effort!
Please donate to Scriptorium if you want more of those texts released. Editing each page takes 15min and researching and cataloging worthy texts is also time-consuming. We accept other payment methods as well as donations of materials (paper, ink, machines...) and time. Please reach to us!
Monero
8BextuEzREqHiE2F9dJCwceFALmazUm5i6PYyMryUJmtZS5LRyGBX7f9XMSiW27bvM7WvtoBayibHg79tRm4gEoCLeGi4P7